Women and Girls School, Soneng, India
In 2006, the Buddhist teacher, H.E. Shamar Rinpoche, bought two acres of land to build a school for nuns and girls from the nearby village. Various circumstances caused the start of the project to be delayed for a long time. But in 2017, under supervision of the Buddhist teacher Jigme Rinpoche (Shamar's brother), the realisation of the project, the vision of Shamar Rinpoche, began. The ground for the new building is in a prime spot, located between Kalimpong and Darjeeling, below the tea gardens. (Soreng Busty, Darjeeling District, West Bengal, India.) This school intends to provide free education to girls and women from the local area. Various crafts will be taught as part of the program. This will allow students to more easily find a job after earning their diploma, and thus build an independent life. Classrooms and dormitories are planned. For local students, a small Buddhist temple will be built, where they can come together and meditate. The project is aimed at developing the economy and dynamics of this remote area. It will encourage and support local girls and young women.
The project now has sufficient resources to finish the school, thank you for your support!

_____________________________________________________________________________________________
Fighting poverty Sikkim, India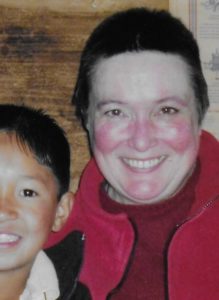 Originally of German descent, Claudia Butnik has lived for over 50 years in Antwerp. More than 20 years ago, she became a dedicated Buddhist nun, in the Karma Kagyu tradition. For many of those years she has worked for her project named ' Himalayan Children'. In doing so, she seeks sponsors in the West to support children of poor families in Sikkim. This sponsorship money pays for school fees, school supplies, clothes and medical care, if necessary. The parents sign a contract in which they promise not to sell the girls and to spend the money to them. A local contact monitors that the money is spent correctly In addition, Claudia spends 4 months per year in the region, and frequently visits the families. During these visits, she checks the list of expenditures which the parents are required to keep. We are impressed by Claudia, who turned 70 last year. With great dedication and all the energy available to her, she tries to improve the life of 18 children, supporting them and giving them perspective for a better future. The HNGF sponsors a number of children.

Claudia Butnik is now retired and enjoying her well-deserved time off, she thanks you for your support!