Rumtek Nunnery
During our visit to Bodhgaya in 2018, we came into contact with a number of nuns from a monastery in Rumtek. That monastery houses 25 nuns, ranging in age from 9 to 45 years, under very simple conditions. The step to the monastery is often taken when children live in poverty. In any case, shelter, clothing and food will be guaranteed. And education is often provided. In 2019, the HNGF donated the furnishings of a classroom and 2 washing machines. Due to the COVID pandemic, there has been little contact since then. Fortunately, we were able to donate the annual salary for the teacher in English and Mathematics which they have hired since September 2022. We are happy that they have taken this step and that the education of the girls and young people women in the monastery is becoming more and more serious. We would like to continue to support this and ask for your help!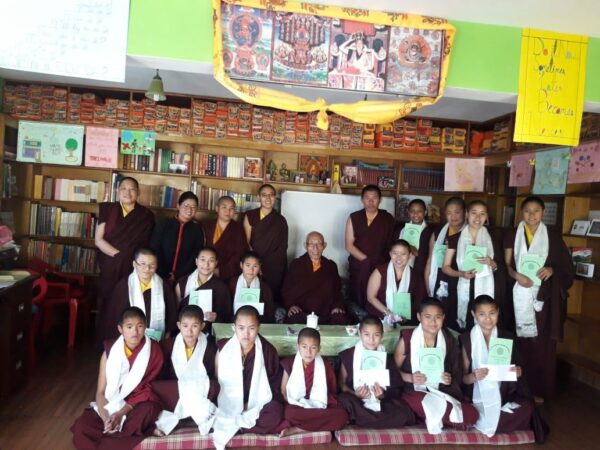 __________________________________________________________________________________________________
Education Monastery, Mainpath, India
Following Nepal's devastating earthquake in 2015, the 30 young monks of H.E. Beru Khyentse Rinpoche monastery in Boudanath were scattered over different monastery locations. Now it has been decided to have the boys stay permanently in Mainpath (India). The conditions there are more comfortable, the weather is pleasant and the monastery has been set up specially for their residence. School benches and tables have been purchased with the support of the HNGF. Further investments will be made in school supplies for the students (stationery, educational games) and for the teacher (laptop and printer). A plan is underway to teach English at elementary school level. Communications via the contact person there are smooth and transparent. Your support, but also your ideas, are very welcome!